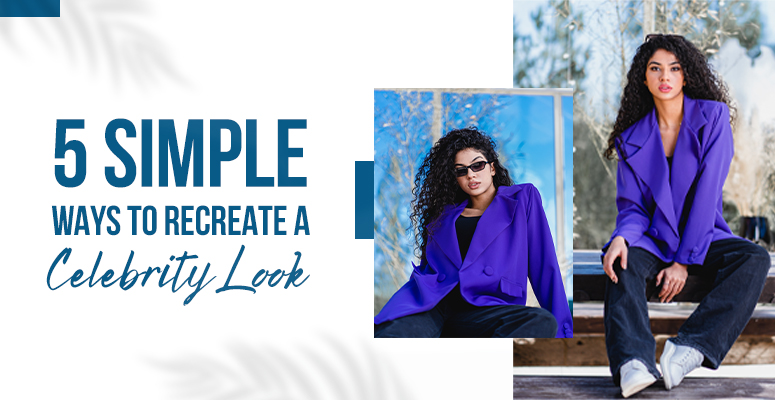 How to Recreate a Celebrity Look in 5 Simple Ways?
The one thing we all desire in the deepest part of our being is to be adored and admired for our looks! No wonder, we all, at some point in our lives, must have imitated the looks of our favorite celebrity but haven't been to what we anticipated!
Isn't it?
And what follows is a deep disappointment, which at times could even take a dramatic turn of us denting our self-image!
Hit a nail over your little head and ask yourself is it worth it?
The intention behind imitating a celeb is to raise our self-identity and not to diminish it to the worst extreme! Right!
To help you in this endeavor, this post is created to clear the air over you recreating a thorough celebrity look.
You just need to follow the 5 simple steps to know what it takes to get the heart racing while you arrive in style dressed in the avatar of your cherished celeb!
Here we go:
1) Choose your idol very carefully: Everyone has a unique style and aura whether it's about a celebrity or a commoner! If you happen to choose a target who is an extreme opposite of your personality, then you have taken the first step in the wrong direction altogether!
For instance, you are an obese person and in contrast, you have picked a celeb of a size zero! This is nothing but a disastrous recipe to sabotage your self-image! You must embrace your unique style while grooming it for the better, following the spirit of your favorite celeb.
2) Never forget to wear your Confidence: The one thing that works for the celebs every time is the confidence they wear!
Haven't you noticed how even in the simplest of attire they tend to make the stunning appearances! It's all because they have mastered the art of carrying themselves with utter confidence and pride.
If you wish to be like them, then an expensive outfit is not the only thing that you need to possess! You also need to practice a dedicated approach of loving yourself deeply yet making the constant attempts of polishing your appearance based on the style of your chosen celeb.
3) Pay attention to every little detail: The biggest secret to making your appearance close to your preferred celeb is to pay attention to the slightest of details. Whether it's about filing your nail to the degree of utter perfection or taking care of your skin and hair to make a flawless appearance, you need knit pick every aspect of your personality to come up with the best version of yourself!
Now you know, it is not easy to be camera-ready all the time 😉
4) Embrace the Designer Clothes: The prominent of all is to evolve in the course of fine clothing. Experimenting with your looks and bettering it with time is all that can bring you closer to your intended appearance. You must stretch your comfort zone and try out the different styles to ultimately evolve a style of your own.
5) Adopt a healthy Lifestyle: In the wake of attractive attires and groomed appearances, you can't escape the tough route of reaching to such perfection! Yes, you got it! Adopting a healthy lifestyle is a must to get you there!
Read the success stories of the celebs and you would know the story of the hard work they have put in to reach the milestone of the perfect physique and glowing skin.
Now when you know the way of recreating a celebrity look, it's time to follow it with passion and persistence!
We hope you like the candid tips and will constructively follow the passion of recreating the look of your treasured celebrity!
You can also check our amazing clothing collection from our website and place online orders by adding them to your carts!