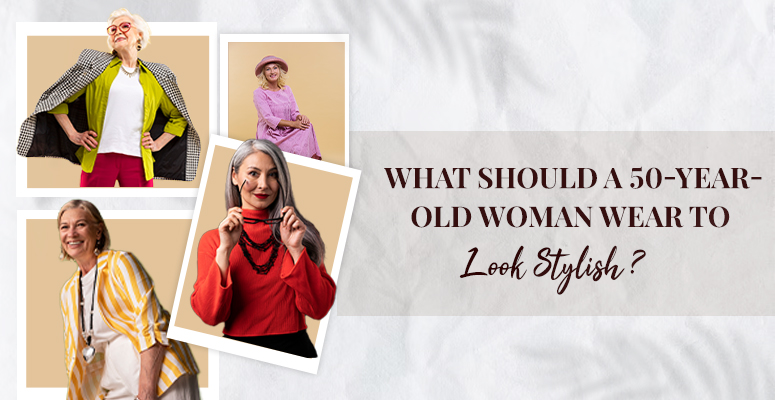 What should a 50-year-old woman wear to Look Stylish?
For centuries, women and style have been walking hand in hand. If there is anything that tops her wish-list, it's about remaining a Timeless Beauty. So much so that even age remains a defying factor.
And Why not?

Staying fashionable and trendy is not a matter of age and the joy of grooming is every woman's birthright!

Beauty isn't just about the youth, but a dignified way of carrying oneself. That is why Fashion has been unapologetic-ally spreading its branches to reach everyone's door whether a toddler, teen, adult or a senior.

Fashion for a 50-year-old woman would mean a complementing style accentuating the elements of grace and elegance within her! And the flawless appearance that you desire in the later years of life when you have crossed the milestone of your youth comes with a little fashion-sense and an Unbounded Confidence!
Confidence that you have gained in every bit of life. Confidence that has now become your permanent identity. Confidence that has become your skin and is inseparable from you in any given scenario after spending those 50 great years going through life's every thick and thin!

The rest is just about a few essentials in your wardrobe to do the trick!

Here is bonus imagery for you!

(Open the window of your imagination and see yourself wearing a plain shirt with trousers! Now add an extra layer of grid kimono over it!)

Do you see how the slightest addition has spiced-up the entire look!

So for all those who are nearing their 50's and want to know the tricks of improving their style quotient, here are some wardrobe essentials to stay in the Streets of Fashion.
1. White Boyfriend Blazer:
White colour is a color of grace! So whenever you've decided to pair the crisp White Boyfriend Blazer with any of your dresses, know that you've cracked the code of looking amazingly stunning.
The great things about the blazers are that they add substance to your appearance and pairing it with even the simplest of denims can make you look ultra modish. Either pair it with your summer casuals or a formal dress style with trousers or denims.
2. Long Cardigans:
Coming up to our next entry, which when worn creatively can assign you many different looks and what is that?
A nice long cardigan running down your knees!
A loose-fitted cardigan would mean a delicate comfort along with a supreme look.
Depending upon your choice of colours and patterns, you can pick it from the range of solid colors to the stripped cardigan, from waist length to knee length. Assigning you a perfect look, a cardigan never fails to give the extra warmth and comfort.
3. Pencil Skirts:
There is no doubt that pencil skirts are exceptionally stylish. Given the support of the right accessories and pullover, it has got the potentiality to match the supreme standards of acclaimed models.
Whether you want to keep the formal look with solid colors or want to play it naughty with floral-colorful prints, pencil skirts act as an amazing bridge between the vogue and finesse. Depending upon the fabrics of crape, linen, and denim, you can pick from your favorite style and steal the spotlight.
4. Denim Jackets:
You all would agree that wearing denim can make you look younger than your age. And after pulling up a classy denim jacket over your attire, you are sure to feel a surge of vitality.
Pairing it's with a casual maxi dress or the regular trousers gives away the healthy scope of experimentation. Experimentation of finding exquisite combinations each day.
5. Tank-Tops:
Tank tops can never go wrong! Club with a great range of accessories like a poncho, grid kimono and long cardigans to mix your style with comfort.
Final Words
As long as the bottom line remains 'Dress to Express', you are certainly heading in the right direction. A little slip from 'Express' to 'Impress' can reverse the whole scenario to your worst nightmare.

All the pretty ladies out there, don't forget to invest in yourself just because the wheel of the time has rolled over your fifties. Get set to beat the fashion sense of damsels and knock the world down with your charm.

The age-clock is telling you to reinvent yourself to come up with your brightest version ever!

Now that you are sailing in your fifties, all you must shed is the Self-Doubt and not Fashion!

Be the timeless beauty you deserve to be and spice up your look with these amazing combinations to see the invisible wings unfurling around yourself!